By Claudia Ferrandiz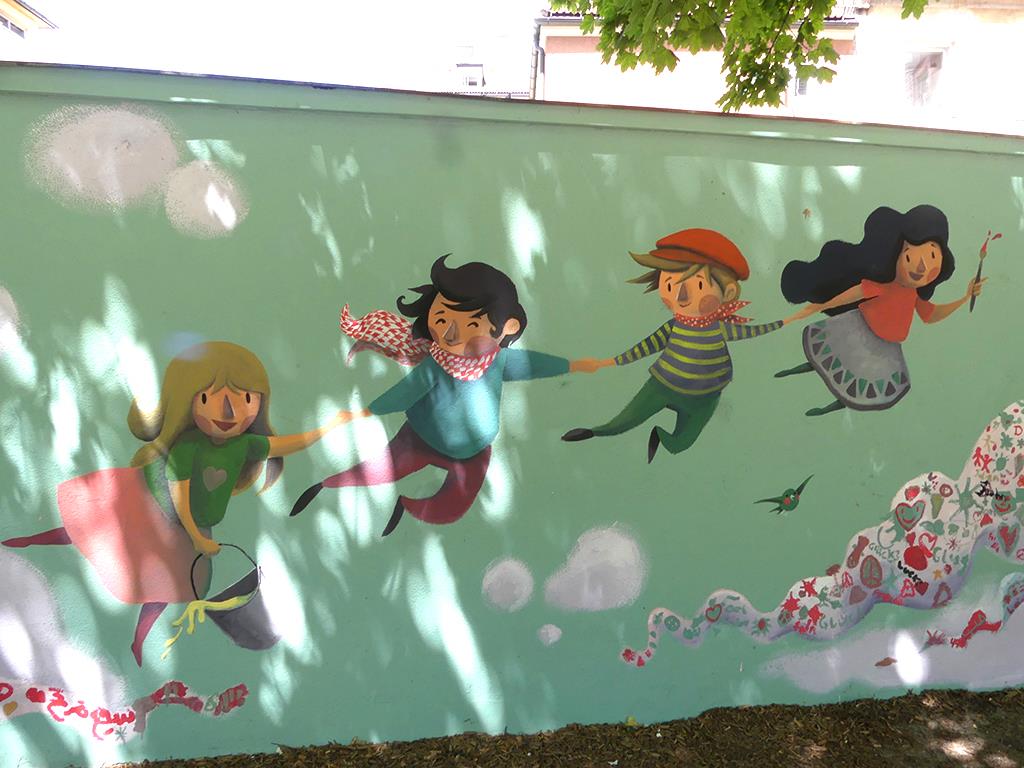 Home
Diala started studying at the Institute of Mechanical Engineering in Damascus. After a few months, she realized that this field didn't motivate her, so she tried Arabic Literature and Civil Engineering. But she didn't graduate in any of these disciplines.
Finally, she decided to go for Education and worked as an intern in a popular children's entertainment company called Spacetoon.
Diala spent five years working in Spacetoon, and later on decided to become a freelance, to push different projects forward. She delved into new worlds like the comic, but without crossing the limits set by the Syrian regime. "You can't talk about the three taboos [politics, sex, and religion], but even if you want to do something neutral, it's very difficult," says the artist.
Saving a generation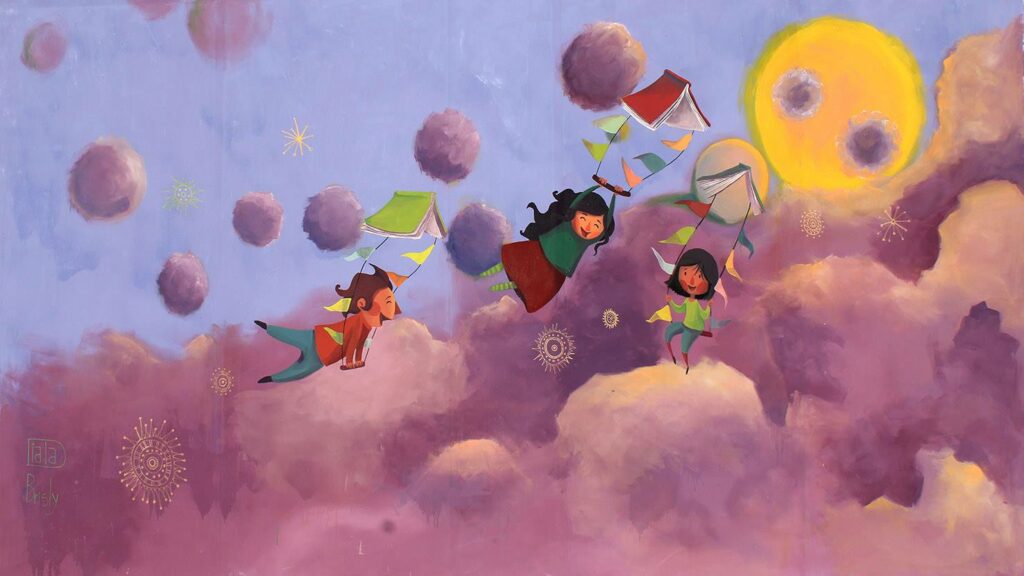 In 2015, while Diala was based in Istanbul, she started collaborating in a children's magazine printed in Syria, 'Zaytun and Zaytuna': "We wanted to make it neutral to remind kids of how to be normal again," she says. The cartoonist tells me they aimed to show that there are other jobs besides being a soldier, besides fighting. But the project was not sustainable, as it was based on donations. That's why two years ago they stopped printing it.
Despite being in Turkey, kilometers away from her homeland, Diala couldn't forget the blasts and the destruction of Syria. The suffering of her people fueled her feeling of guilt.
To take advantage of her days and improve other people's lives, she decided to move to Beirut. "It didn't help that I felt guilty all the time and that I isolated myself," she says. In the refugee camps of Lebanon, she started working with children. Perhaps she couldn't change anything "politically", but at least she had the chance to support an "alternative education".
"I lost hope for a political change, but Syria is not only a piece of land; these kids are the next generation, and we can't leave them behind because we take the luxury of losing hope," Diala says. She insists that children are the "victims" of war.
In Lebanon, she worked in several NGOs based in the camps. "I wanted to encourage kids to go back to school," the cartoonist explains. According to her, most schools in the refugee camps are tents, and that discourages children. Besides, in summer it's very hot, and in winter it's too cold. That's why the artist visited different schools and tried to make them "beautiful".
At the same time, Diala organized workshops with children that had suffered the consequences of war and were dealing with life in the refugee camps. "In spite of that, when they see you coming with colors and fun, they forget about everything and get very involved," she tells me.
At the beginning, kids drew dead people, blood and bombs. To help them, she suggested new topics so that they would create a new visual memory. "You can't replace sad memories, but at least you can make them create their own reality, the environment they live in", Diala says.
"Children think you will save them, you will help them to survive, but I tried to tell them that I was only there to ease their situation, that they were the heroes," she adds. Diala made them drew themselves to reinforce their individuality. Although she had never studied Art Therapy, she documented herself and asked different psychologists for advice.
With those workshops, Diala helped herself as well: "I was getting my therapy in return because kids know how to live the moment, how to be cheerful".
A new art scene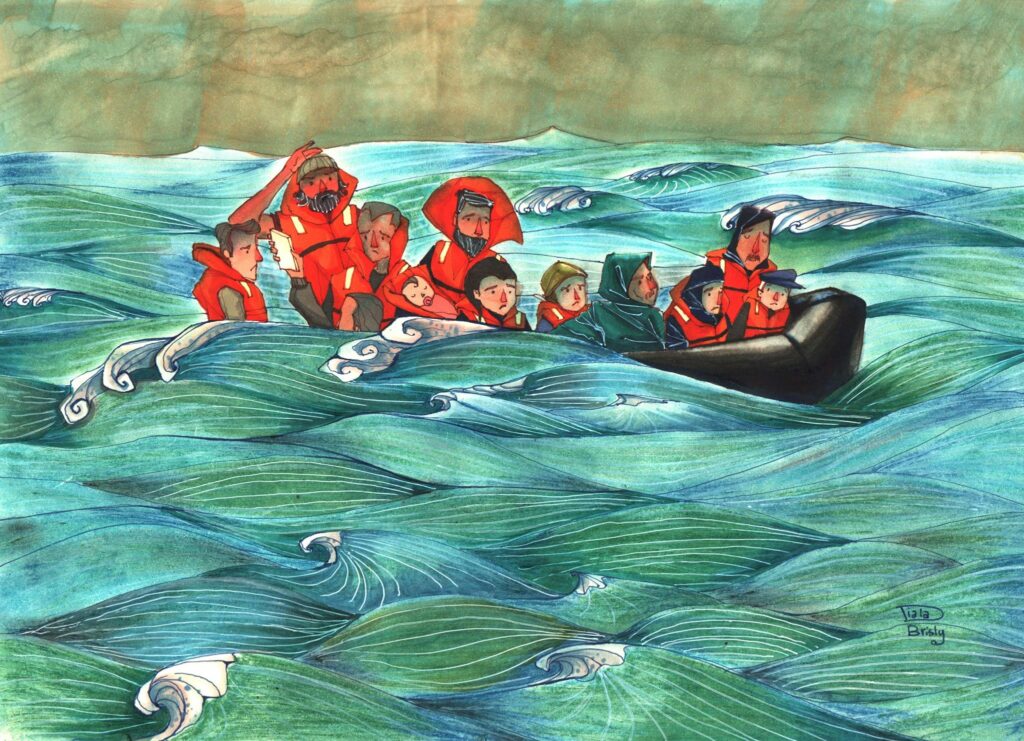 Diala draws first for herself because she feels "a frustration", and translating it into art helps her to express her feelings. But, at the same time, it allows her to tell stories in a different way. "Art has a mission, it's not a luxury. It plays an important role, especially with kids who have suffered traumas," she adds.
Since she's in Europe, the cartoonist has felt her art is welcomed. "The freedom makes the difference. I have been able to develop more my techniques and my art because I'm seeing new things," says Diala
Diala moved from Berlin to Paris, but she keeps working on children's books and in workshops for both adults and kids. Besides, she draws murals and sends them to Lebanon.
Although the cartoonist is aware that her art has been shaped by war and exile, she is trying to cut down the drawings that only tackle these two topics. "The destruction lives inside of us, not only in the buildings," she says. That's why she has launched a new project which is more personal.
Kilometers away, Diala is still committed to improving the lives of those who suffer the consequences of one of the most brutal wars of the 21st century. Her inspiration, her heroes, are those who try to make the country more livable, in spite of the adversities, the prohibitions, and the devastation.
Claudia Ferrandiz, a freelance journalist from Barcelona.