DzFest is the Algerian Festival for Arts & Culture. A series of community-led events across London, to promote and celebrate the country's vast cultural heritage and traditions.
ABOUT CULTURAMA
Culturama also known as Afroculturama is a non-profit cultural organisation based in London, founded in 2013 by a group of Algerian professionals and creatives. With the sole aim of promoting African & Arab culture, North African and more specifically Algerian. This Autumn, Culturama is producing its first edition of DzFest.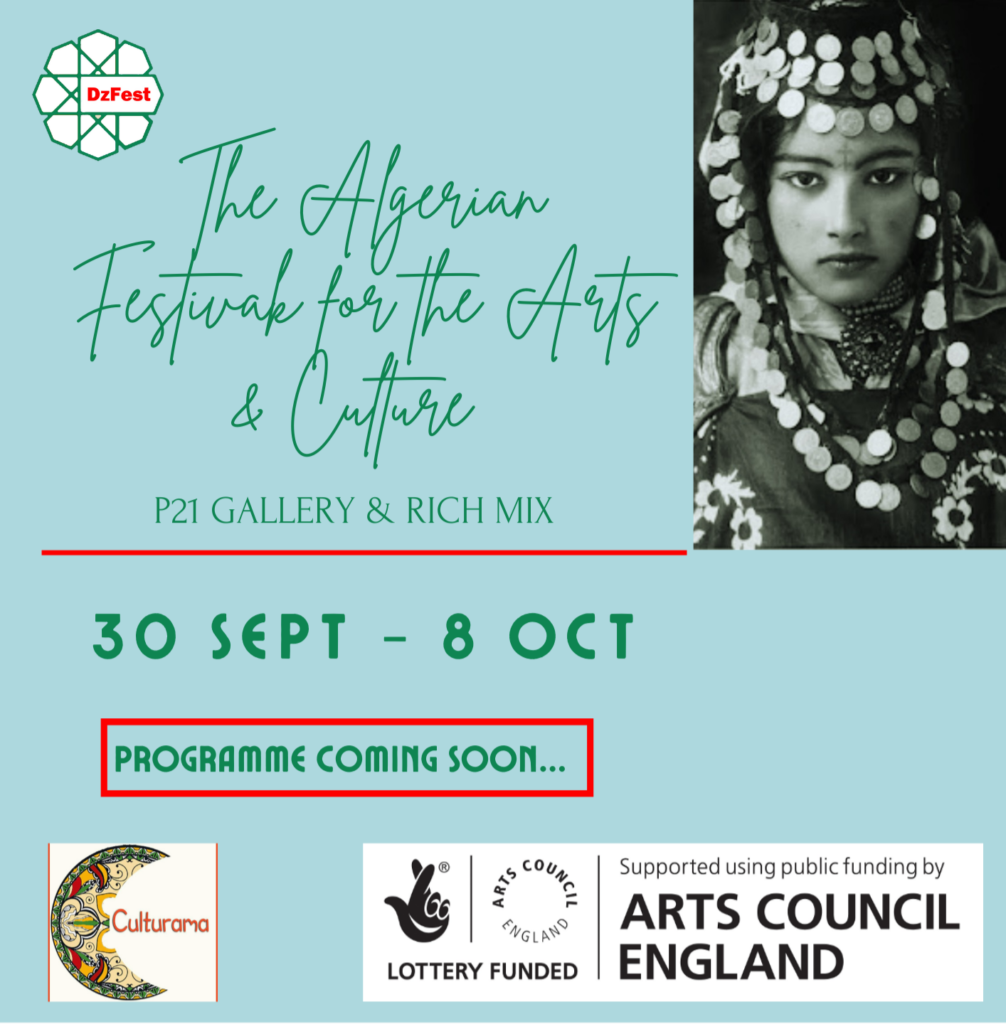 ABOUT DZFEST
DzFest is the Algerian Festival for the Arts & Culture, based in London, UK. A series of community led events to promote and celebrate the country's vast cultural heritage, which is under-stated, under-reported and often misunderstood. To share the incredibly rich Algerian culture in its diverse forms all audiences (physically and digitally).
Title debunking: DZ is the symbol for Algeria.
"DzFest" will be the first British-Algerian Festival for Arts & Culture in the UK.
A culmination and result of continuous efforts by the Algerian diaspora and the Algerian community in the UK to promote and celebrate its culture & heritage. To celebrate the British-Algerian and other hybrid cultures between two identities through the Algerian diaspora. To bring & share the much vibrant & hugely diverse yet unknown Algerian culture to all UK & international Audiences, to promote engagement & raise awareness, but also bring the Algerian communities together at a time where social isolation is increasingly becoming a reality. The festival will host Dance & singing workshops, performances, DzTalks and roundtables, Algerian artisanal bazaar, Arts exhibitions of local artist who are linked to Algeria (by birth, affiliation, medium), Dz fashion show, roundtables, Dz film screenings & debates.
Art
The festival will kick-off with "Elle-Djazair" on 30th Sept 2022 an all-female exhibition curated by Toufik DOUIB at the P21 gallery in London Kings Cross. The exhibition will run until October 8th 2022. The theme is "Identity"
Bringing together the work of renowned & established artists including Houria NIATI, Assia BERKANE, Hamida Zed, and Jamila Boughelaf for her debut exhibition of drawings & paintings. And award winning journalist and photographer Venetia Menzies.
DzTalk
Special guest speakers will give talks around their success story, business etc…this will be our 1st edition of DzTalk which will become a series of events in its own right. The first speaker will be Algerian restaurateur, Chef, cookbook author and founder of Comptoir Libanais PLC, Tony Kitous.
Music:
The Rich Mix venue will be alive with various Algerian acts this autumn, bringing some big names in the incredibly diverse and world famous Algerian music.
1ST October evening line-up will include:
– Culture warrior & Dance artist ESRAA Warda with an opening dance performance
– British-Algerian hi-hop rising start and rapper Jaz Kahina
– Headliner: Samira BRAHMIA a vocal powerhouse and "The Voice" star, with her world-famous band, she will be accompanied by Youssef Boukella the founder of the ONB (Orchestre National de Barbès) and famous drummer/composer Karim ZIAD.
Closing Night: To close the festival, we return to P21 Gallery on Sat 8th Oct for an unplugged evening of Chamber music featuring various emerging artists. This will be followed by an All-Algerian Fashion show to the sounds of DJ Afrokazbah. A great evening of Music, incense and candles, guests will be invited to dress in their traditionals and relish in an evening of culture & chants.
Dance:
Algeria boasts various and multiple dances and we will endeavour to bring them to the London stage & audiences with four dance workshops lead by the fabulous ESRA WARDA. She is a dance artist and educator specializing in N. African traditional dance forms. A child of the Algerian diaspora, Warda is a cultural warrior advocating for the representation & preservation of North African women-led dance traditions and the decolonization of euro-centricity, orientalism and patriarchy in dance. WARDA will also perform the opening act for the evening of Sat 1st Oct at the Rich Mix, E1 6LA
FILMs: Free screenings of Algerian Classics, shorts & features with debates & Q&As – All day Rich Mix on Sat 1st Oct
Community & Creative Engagement
The event will be community-led and as such we are inviting local artisans to host the Dz Bazaar. With various stalls showcasing their special blend of Algerian & British-Algerian produce, food, traditions, art etc…
Literature: the multi-art programme includes a special literature event exploring Algerian literature with a roundtable & Q&A alongside some select and newly published authors from the diaspora. Oct 5th at P21 Gallery
KIDZ:
DzFest aims to mark this first edition with a focus on children & youth, to bridge the hybrid-identity gap and encourage them to grow up connected to their Algerian heritage and to learn to include it into their British identity.
With various workshops and storytelling of old Algerian folk tales presented by Khayaal Theatre Company.
Children will also be encouraged to wear their traditionals to immerse themselves in their heritage and get them to connect with Algeria in the most positive way.
Dates: between 30th September and 8th October 2022 across two different venues in London. Highlights include: