Interview Sulaiman Othman
The prize-winning writer on her short story The Sea Cloak highlights women's voices in Gaza
Born in Yarmouk in the Damascus refugee camp in 1984, Nayrouz Qarmout, grew up in the Gaza, Palestine where she now lives. In her latest short story collection, The Sea Cloak she explores everyday life in Palestine, with a particular focus on the women, giving us an invaluable insight into Gaza and its challenges.
Qarmout is currently, taking part in a project called " A summing pool for women in Maxmur camp" a collection of short stories about women's resistance. The idea of the project came after the liberation of Kobane, northern Syria in 2015.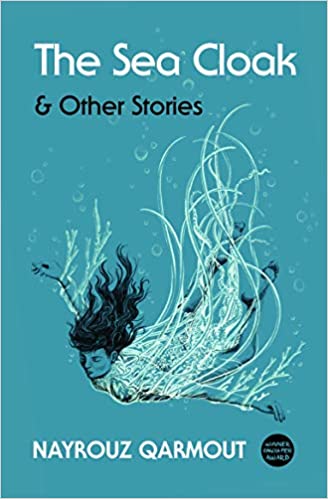 The Sea Cloak; a collection of short stories. What does the collection address? And what are its main highlights?
The underlying vision of this collection of short stories is really human conflict in its historical, geographical, social, cultural, and political dimensions. The stories are presented in a simple language that reveals an ordinary person who is struggling to find answers to the ongoing complexities of life. The collection depicts the painful journey people go through in their search for safety, certainty, liberty.
The Palestinian person is the symbol of asylum; a quest that most people of this planet are after, in a temporal focus that cannot escape observation.
How did you start writing short stories ?
It was by coincidence. My whole journey as a writer wasn't planned for at all. I grew up in a political intellectual environment with very diverse and conflicting thoughts. I was overwhelmed with painful feeling while thinking of the meaning of the human beings in their struggle, their suffering, and their sacrifices. Why do people suffer from discrimination based on class or gender? And why are certain groups marginalized? Are our language and our principles the same despite the apparent variation? I have always been troubled by this idea.
For several years and in many magazines, I wrote several political, social, and philosophical articles. in many sites and magazines. I was writing for Siyasat, a political quarterly issued by the Institute for Public Policy in Ramallah. I remember when one of my articles was digging deeply into the Muslim Brotherhood's experience in governance. The magazine's editor asked me to write a short social story. He had just started editing The Gaza book, an anthropological narrative that addresses the life of the Palestinians in the Gaza Strip. The book was translated into English and published in the United Kingdom. At first, I refused because I couldn't unveil how much my imagination guided almost all that I have written. When I refused, he insisted. While I was still saying no, I glanced that black cloak from a distance. It was Gaza pleading for freedom.
I assume that as a female writer, you wish to highlight the challenges and hardships women experience in Gaza?
Of course, the Palestinian woman is the most fragile point in all the challenges that beset the region. There is a social movement that is developing steadily under occupation and no one can ever stop its progress. But it still does not meet our expectations as women, and we address needed concepts. In my collection of short stories, I describe the Palestinian woman in Gaza, the West Bank, and in the diaspora. This woman is a symbol of several social and political issues that the Palestinians are dealing with.
Palestinian people need a creative woman's revolution, a revolution against outdated customs and traditions particulary the misunderstanding of the role of religion. In a confined place like Gaza, which has been a ghetto for so many years, what do you expect from the people who watch the world through their TV and social media screens only?
How can a woman be heard?
The time has come for women to step out of the closed feminist cantons, whose funded programs do not adequately serve women's goals for a societal development policy which taken women into account.
Big slogans on women's liberation are not enough. We need to dig deeply into the reason behind the women's failure to realise her own potential to be an effective person. Women should work hard and long against patriarchy and should strife to make their voices heard as members prosecuted nation. Women have the right to be part of the decision-making process and part of its outcome as well.
Between Damascus and Gaza, where is your home?
Damascus represents my childhood. where I moved between several houses. Damascus is my grandmother, from my mother's side, who lived in Jober. Sadly, her house was completely destroyed and perhaps she was lucky to pass away before she witnessed all that ruins in Syria. I couldn't see her as I had no identity card or a passport. When I travelled to Edinburgh in Scotland, which was the first time for me I leave Gaza since my return, I felt cold just as I used to when I was a child in Damascus. I felt like I was in Ancient Damascus.
You were born in Al-Yarmouk Camp in Damascus, Syria. What do you remember?
A Jasmine flower, a swing, a falafel shop, photos of artists on the wall, Arabic Ice-cream powdered with Aleppo pistachios. I remember the fighters' giggles as they talked about returning home, their Khaki uniforms, the cinder of a fighter's cigarette in the darkness, and myself sniffing its smoke . I remember a thick beard, my cousin's voice crooning a song by Fairouz, and my grandma humming Ataaba (a popular Palestinian song ).
Al-Yarmouk Camp was based in a state. The camp was governed by a rhythm that brought stability for the inhabitants. This rhythm has recently changed in Syria. In Gaza, I realised the meaning of instability and constant noise. Between al-Yarmouk Camp in Damascus and Jabalia Camp in Gaza I remember every second of my strife to prove myself, to tell everyone," I exist!", and no one has the right to debase my existence. Yes, I am free and will forever be.
•"A summing pool for women in Maxmur camp" is coming soon.
•Text translated by Anghma Abdullah