In 1997 Hasan held his first solo exhibition in Al Hasakeh, Syria where he was born. Consequently, he proceeded to exhibit (solo) in mostly all other Syrian provinces.
Three consequent exhibitions in Lebanon, Beirut, before he migrated to Europe where he first exhibited in Germany in 2012. After that Abdalla moved so settle down in the UK where he first exhibited in Birmingham and West Bromwich in 2012.
In London, where he lives now, the British war photography Pul Coroney introduced him to the public as a crea- tive artist through an exhibition supported by the Red Cross in 2013. In that exhibition Abdulla's work attracted the attention British media such as ITV1, BBC4, CNN,CBC, The Guardian, And he also has been featured by BBC news channel.
He first exhibited at London Bridge sponsored by Red Cross 3013 and then at Oil & Water Gallery 2014, at Horniman Museum 2016and at St Ethelburga's Centre 2017. He also exhibited at Lewisham Townhall in 2017 and at Something Gallery in Foresthill.
In 2014 Abdullah had a solo exhibition in Sweden-Vestarous Cunest Hall and Sandviken Cunest Hall. In 2015 exhibited in Spain Grnada/ La Conca Art Gallery and in Turkey Istanbul at Keleemat Art Gallery and Dyarbak- er. He was invited by the main Council to a Symposium where two of his works picked up by the National Museum.
Chelsea Arts Club's committee invited him to be one of their members in April 2014.
His work mostly reflects an abstract expressionism school through which he expresses his ideas and element which reflect his interest in humanitarian issues.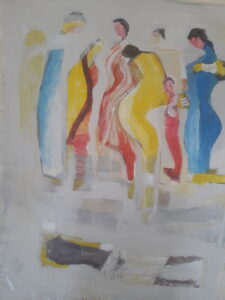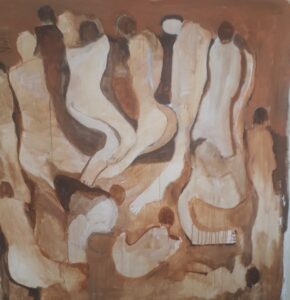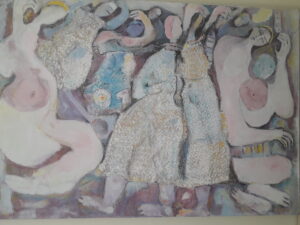 All artworks are for sale.
Caravel magazine aims to support the creative endeavour of artists from the Middle East and North Africa. Please email us on [email protected] should you have any inquiries about the works.