By: Sandblast 
"We want to speak about our rights for a better life, not the life of a refugee," said Aisha, 10, as she addressed a small crowd in English during her school's musical performance in the Saharawi refugee camps earlier this year.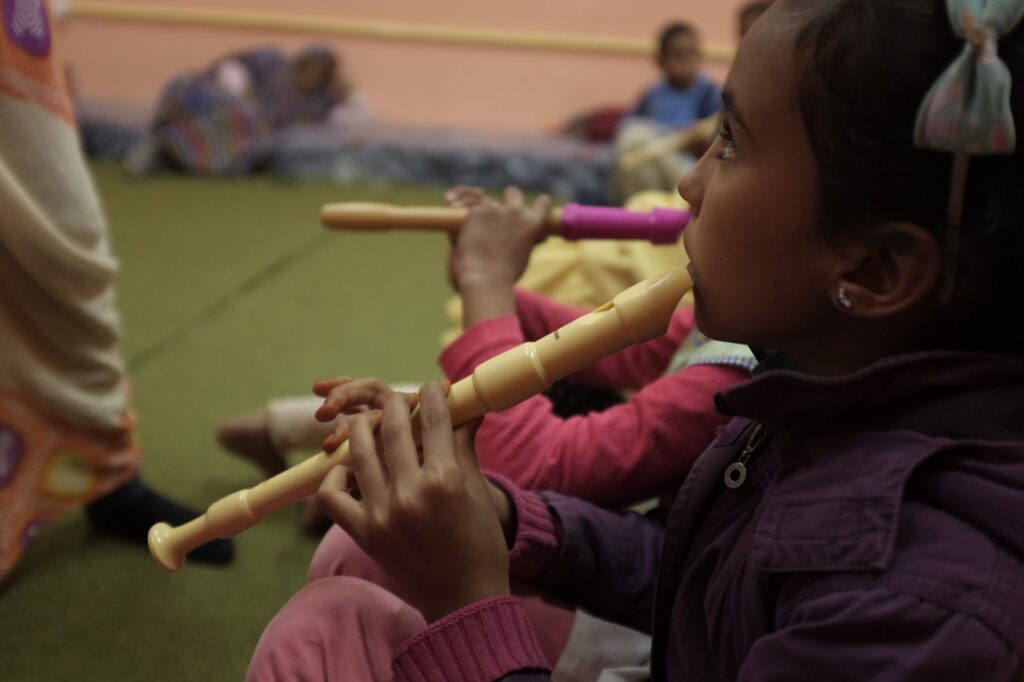 Aisha lives in Camp Boujdour; the smallest of five camps located near Tindouf, SW Algeria. These camps are home to over 200,000 indigenous Saharawis from Western Sahara, who have been living in exile from their homeland of Western Sahara for nearly 50 years. A former Spanish colony, Western Sahara was annexed by Morocco in 1975. War broke out between the Moroccan forces and the Polisario Front, which represents the Saharawi people, and thousands of Saharawis were forced to flee across the border to set up provisional camps in the harsh Algerian desert. Today, with no political solution to the ongoing war, a third generation of Saharawis are growing up in the camps with few prospects for a better future.
But Aisha is one of the lucky ones. She is part of a daily after school programme called Desert Voicebox, which provides English and music education to Saharawi refugee children in Camp Boujdour. Established in 2016 by UK-based charity Sandblast, it is the only programme of its kind in the camps, where over 60 primary school children are taught by four local refugee women. 
"I have so much more confidence now since I started teaching with Desert Voicebox," said Nanaha Bachri, an English teacher. "When you teach in this programme, you really feel that what you are teaching is beneficial – it is tailored more to the children's needs and what works for them."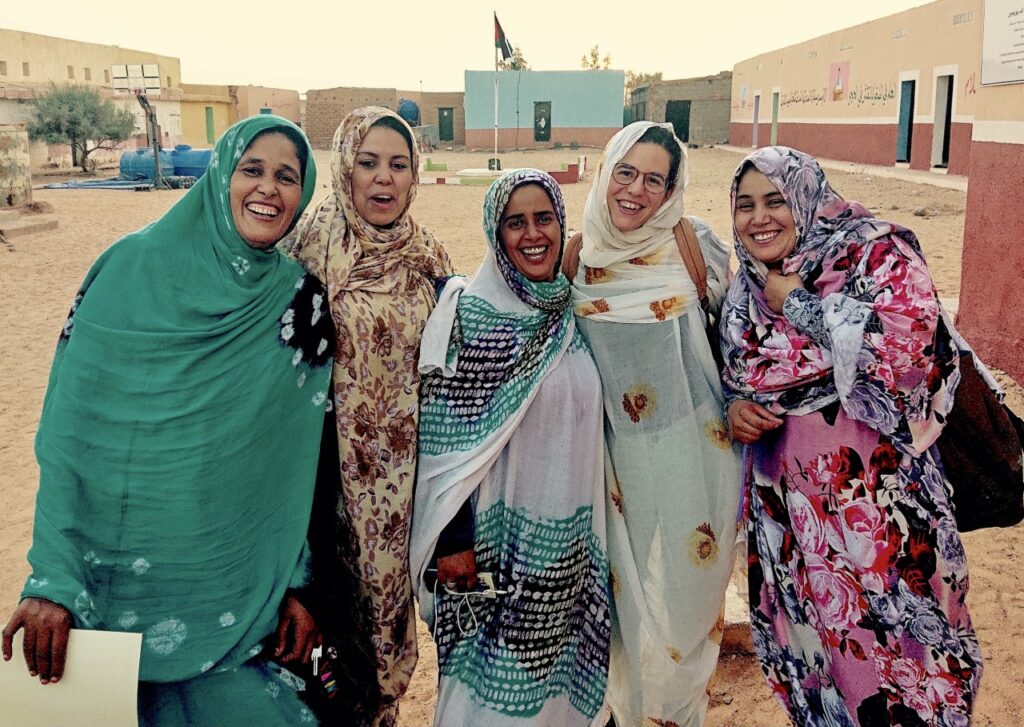 The programme uses storytelling and interactive methods to engage the children's imagination and promote their creativity. This is vital, as the unresolved conflict in Western Sahara has had a profound impact on the lives of Saharawi refugee children in particular. Schools in the camps are chronically underfunded with minimal educational resources, overcrowded classrooms and limited school feeding. According to a 2018 study from UNICEF, around 40% of water, sanitation and hygiene facilities in schools were not functioning and 65% of the 36 primary and intermediate schools required rehabilitation or rebuilding. The school days are also short – just four hours long – which means children regularly contend with long, empty hours in the camps.
"The parents talk to me all the time about the programme and how it helps their children to do something positive in the afternoons, rather than just playing in the streets," said Tekween Mohamed, a Desert Voicebox English teacher since 2016.
Over the years, Desert Voicebox has evolved into a valued programme that offers children the opportunity for much-needed stimulation and creative expression through art, music and English, which is not currently taught at a primary school level in the camps. Sandblast also works with local Saharawi artists to conduct weekly workshops about culture and traditions, and the charity facilitates qualified international volunteers to visit the camps to train the teachers and run creative workshops with the students.
"Each volunteer leaves their mark on the children," said Fatimatu Malainin, a music teacher. "They always ask after the volunteers who have left. They dress up when the volunteers come – it gives them something to get excited about."
Sandblast founder Danielle Smith is also facilitating a penpal programme with primary school students in the UK for cultural exchange and to build international friendships.
"The main way you can find out about who the Saharawis are is through their culture," she said. "This helps you to engage much more profoundly on a human level."
Sandblast is fundraising to respond to local demand to expand the programme into all five camps. But among the many challenges is the recent announcement from the World Food Programme (WFP) that it would cut food rations in the Saharawi refugee camps by up to 50% as a result of higher grain prices and freight rates.
Still, new generations of Saharawi refugees are keen to express their aspirations and share their stories.
"We want the children to be able to spread the word about our situation," said Salka, whose daughter is a Desert Voicebox student.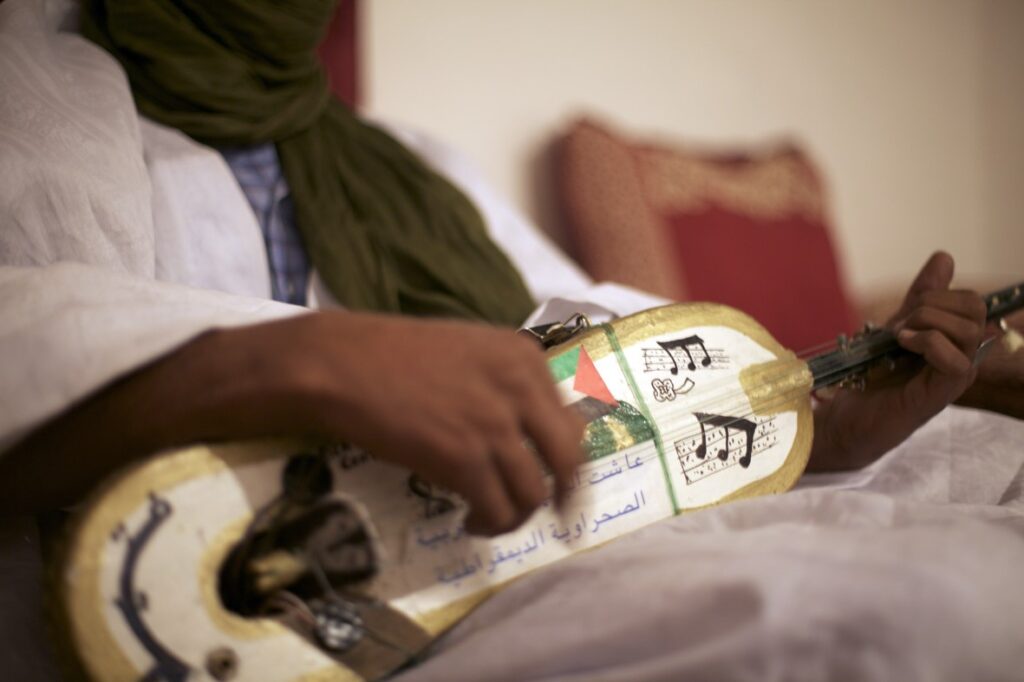 The voices of refugee children like Aisha, and dozens of other Desert Voicebox students, will be crucial in carrying on this message.
www.sandblast-arts.org / @sandblastcharity